Weather
The weather and roads may just affect your trip up to High Trails in Southern California…it never hurts to be prepared!
Unless you're a school or teacher, please don't call or email us asking for weather or road conditions. We need to focus our time and resources on the students!!
Snow and Roads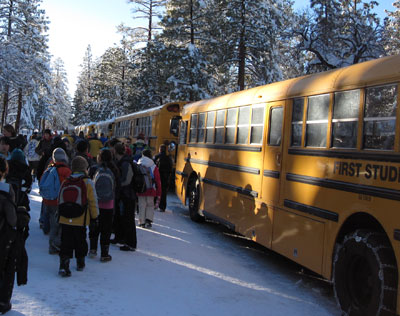 Southern California can't decide if it wants to be in a drought, blizzard, or go up in flames. Though variety in weather is welcome, it does bring with it some challenges, especially when it comes to convincing schools, teachers and parents that camp is a safe place to visit.
Before busses head up to camp, all roads are evaluated for safety and travel schedules are adjusted accordingly. The first thing we do on snowy mornings is call the California Highway Patrol and check their recommendations for school bus travel. If the roads aren't safe the busses don't drive on them.
Busses traveling in the mountains are required to carry snow chains, and their bus drivers are trained in inclement weather driving. One of the bigger drawbacks to winter driving is that it takes a good deal longer to get anywhere. The positive side to this is that it means everyone is driving slow…and in the winter, slow means safe. Once here, we're ready for the worst of it, with extra snow gear, warm cabins and facilities, and instructors that can adapt to teaching in all kinds of conditions. Sometimes the best part about going to camp is just seeing something different; if you're lucky enough to come up in the snow there is a whole new world ready for you!
Fires
Our Situation
Southern California has had below normal precipitation over the last decade. This lack of water has directly affected the trees in the forest, weakening their defenses against the bark beetle, which burrows into the trees and slowly kills them. Lack of water and the bark beetle have caused more than one million trees to die in the San Bernardino National Forest in the last several years. Traditionally, our national fire policy has been 100% suppression: if there is a fire, we put it out. The problem with this is that small, periodic forest fires are nature's way of clearing out old, dead vegetation and trees. Small fires greatly reduce the possibility of large, catastrophic fires. Add everything up, and we have a forest that is full of many dead trees and countless years of accumulated vegetation.
Prevention/Containment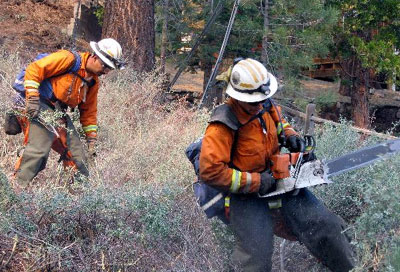 The federal government has provided funds to thin out our dead trees, reducing the risk of forest fires. The Forest Service is actively identifying high risk areas and aggressively thinning them out. Additionally, part of the 2003 Old Fire containment strategy was to use bulldozers to create fire breaks. The Big Bear Valley and the surrounding forest now has containment lines all through it to help prevent fires from spreading.
Air Quality
During a fire, the surrounding communities can be covered in thick smoke, affecting the quality of the air. Within days of a fire's full containment, the smoke settles and the area's air quality gets back to normal. Normal air quality at camp is excellent; we're up high enough to escape both smog and most smoke from fires burning down in the flatlands. If there are active fires in our mountains, it can, depending upon the wind direction, potentially affect air quality. When this happens we bring students inside, monitor conditions, and talk with visiting schools about sending students home early.
Safety/Evacuation
The Big Bear Valley and surrounding areas were evacuated during the fall of 2003 because of the Old Fire. The town of Fawnskin and the surrounding area was evacuated in 2007 due to the Butler Fire. Though both of these fires were large, devastating events for the forest, advance evacuation of the communities made it safe for residents and visitors of the area.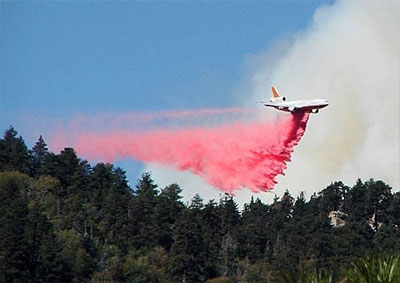 Evacuations are decided upon by government agencies, and are designed to clear population areas out well in advance of an approaching fire. If a fire can, even remotely, threaten a population area, an evacuation is ordered and enforced. During the Old Fire in 2003, when the call came to evacuate Big Bear, estimates were that the fire was more than 48 hours away. During the Old Fire, over 15,000 people evacuated from Big Bear over the course of 12 hours with no injuries occurring.
Recent Fires
In recent years the San Bernardino mountains have been hit hard by the Butler, Slide, and Grass Valley fires. In early September 07 the Butler Fire burned a large area around one of our sites, and forced us to relocate our program during that fall season. Though we were not yet running program during this fire, it was comforting to watch the evacuation procedures called well in advance and come off without a hitch. The Slide and Grass Valley fires during late October 07 burned neighboring communities, but were well away from any of our sites. We communicated with local officials during these fires, who assured us that it was 100% safe to run our program.
Camp Preparation
Within the first day of a school's arrival, we practice an all camp emergency evacuation drill. Our instructors carry 2 way radios with them at all times, so they are always apprised of any situation. We also hold weekly staff training inservices, focusing on topics such as fire safety, earthquake safety, and other disaster issues. If a fire were to approach any of our sites, we would immediately be contacted by the local firefighting agencies. Busses would arrive from the local school districts and government agencies and we would take students to safety. In the end, it is always a risk to send your child, student, or school anywhere. While we cannot guarantee that fires will not occur in Southern California, we can take every precaution to make certain your children stay safe.