Dirticulum: Classes
Ahh…the Dirty Classroom. No sweeping or dusting necessary. Here you'll find our own effort at helping outdoor educators become better teachers. From the inspiration of our Staff Blog Posts and the structure of our Lesson Plans to the pure visual fun of our Videos and the detailed descriptions in our Nature Guide, we're doing our part at making the Dirty Classroom good, clean fun.
Adventure Classes
Adventure Course

The Adventure Course is a set of classic teamwork initiatives. Talk to each other, utilize everyone's strengths, and work like a team. A low ropes course…physically safe, but it still pushes all the right buttons.
advcourselessonplan

Archery

Background Information / Lesson Plan
The invention of the bow and arrow played an invaluable role in the progression and growth of the human race. Students will not only learn the importance of archery, but they will also learn basic safety and shooting techniques and get to practice firsthand on our range.
Objectives:
Students will be able to:
Describe the history of the bow including native and modern hunters.
Summarize the interdependence between native hunting, modern hunting, and our communities.
List the major parts of the modern recurve bow and arrow.
Explain the safety precautions taken while inside the archery range.
Demonstrate the proper techniques for shooting.
Climbing
Background Information / Lesson Plan
Fear. Limits. Safety. Challenge. Rewards. Relief. Memories. A million words can describe our Climbing Wall, which puts students 30 feet up into the air, powered solely by your own effort and determination. The experience is entirely safe and supportive. Afterwards students will discuss the difference between actual and perceived risk, and how it felt before, during, and after their experience.
Objectives:
Students will be able to:
Establish and experience an atmosphere that makes use of trust, support, encouragement, communication, emotional safety, and challenge by choice.
Demonstrate safe and proper use of high ropes equipment and elements.
Participate and successfully complete unique climbing elements using the mental, emotional, and physical resources of the group and self.
Process and share what they saw, thought, felt, and learned during the initiative.
Transfer and apply new knowledge to actual situations at camp, home, and school.
Native Culture

Background Information / Lesson Plan
Students learn which local plants to steep in a glass of tea, and which leaves make a natural toothbrush. As students discover how Serranos utilized the local forest for survival, they will hear Serrano legends around a campfire they helped to build with a bow drill fire set!
Objectives:
Students will be able to:
Explain the effect of disease on the local Serrano population.
Identify local edible plants and describe their uses.
Build, ignite and bank a fire safely.
Describe the Serrano culture in terms of artifacts, ecofacts and oral tradition known to archeologists.
Orienteering

Background Information / Lesson Plan
Being in the wilderness means not only knowing about the animals and plants, but knowing how to find your way around as well. Map and compass skills will be learned as students challenge themselves to complete a designated orienteering course.
Objectives:
Students will be able to:
List the major parts of the compass and topographic map.
Identify the four cardinal directions on a compass.
Orient a topographic map.
Demonstrate the proper use of map and compass to navigate forest terrain.
Environmental Classes
Earth Works
Environmental Awareness
Feathered Friends
Furry Friends
Little World
Outdoor Survival Hike
Plant Detectives
Summits
Team Discovery Hike
Water Wonders
Evening Classes
Nature Guide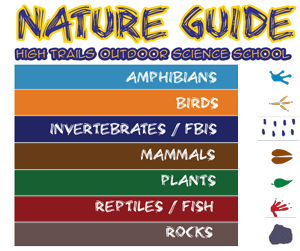 Largely put together by staff member Laura Cerrato, here's an old fashioned, printable field guide full of all the animals, plants, rocks and things you might find in our neck of the woods.