"Unless someone like you cares a whole awful lot, nothing is going to get better, it's not." –Dr. Seuss
 What is The Lorax?
Every Friday morning at High Trails Outdoor Science School, groups of 40-120 5th or 6th graders gather in an outdoor amphitheater, sit on wooden benches, and watch a play. It is the final day that these students will be at High Trails. To send them off, the cabin instructors will perform a simple production of The Lorax.
In 1971, Theodor Geisel, aka Dr. Seuss, wrote The Lorax in response to a world that was increasingly destroying its environment. In the original text, Dr. Seuss even made reference to a specific over-polluted lake, writing that the water was "smeary", and that it's like that "up in Lake Erie" 1. The host/narrator of the show shares this at the end of every performance, then tells the story of how people responded with a movement to clean up the lake, eventually leading to the line being removed. This story provides students with an inspiring message: when you see that there is something wrong with the world, you too can make a difference.
The Power of Storytelling
Why do a short play at the end of a week of outdoor science school? As teachers, we strive every day to keep our students engaged. As young students retain more information when it is linked with a classroom activity 2 we use games, presentations, activities, and experiments to grasp their attention. By using these methods, we can appeal to their visual, auditory, and kinesthetic learning styles. But the one thing that has appealed to all human beings since the beginning of language is storytelling.
Humans have been telling stories since before recorded word; through oral tradition, myths and legends have been passed down from generation to generation. In our modern world, stories are still told in a multitude of mediums: in movies, in online blogs, on television, in books (both physical and electronic), through video games, and through almost every technology and mode possible. Stories appeal to us because of their structure; they have a beginning, a middle, and an ending; they are relatable; they tell of the human condition, and help us understand others and the world better. Storytelling is one of the most effective ways to reach students because they become hooked; once they have heard the beginning, they have to hear the ending. You can see this same concept in action when you tell a child a riddle: they will not rest until they hear the answer.
Stories can be explicit or subtle; they can use metaphors to suggest a meaning, or they can blare a meaning through a megaphone to avoid misinterpretation. Like many Dr. Seuss novels, The Lorax is certainly one of the more explicit stories out there. It tells the story of a creature called the Once-ler who arrives at a forest of Truffula trees and, ignoring the warnings of the Lorax (who speaks for the trees), cuts them all down to turn into marketable products (Thneeds). Once all of the trees have been cut down, the Once-ler realizes his mistake, and gives someone else the last Truffula seed so they may restart the population. He then delivers the famous line, "Unless someone like you cares a whole awful lot, nothing is going to get better, it's not". If we simply told students this line without any context, it would just be another lecture, but by attaching it to a story, it sticks in their mind as a significant change for the Once-ler's character.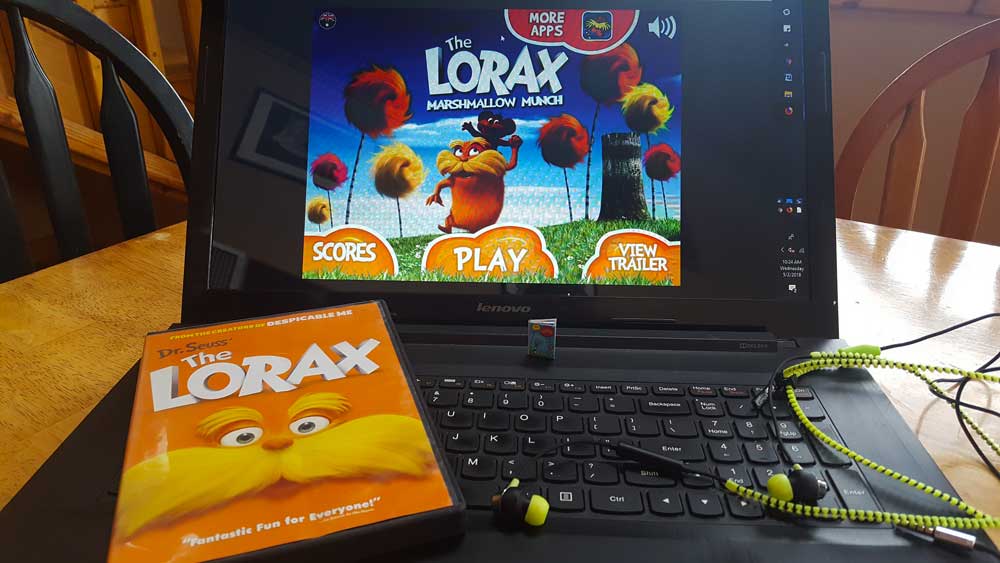 Oh, the Thinks You Can Think
So what is the unique power of a Dr. Seuss story? Seuss's works have the unique characteristic of being read at least once by almost every literate American. His books, like Cat in the Hat, Green Eggs and Ham, and Hop on Pop are household names, recognizable by practically anyone over the age of 5. He utilizes simple and memorable rhymes, fun to read aloud and easy to remember, as well as a spirit of playfulness in every one of his books. As Cae Cornfield, a worker at a Denver book shop put it, "he makes nonsense reality" 3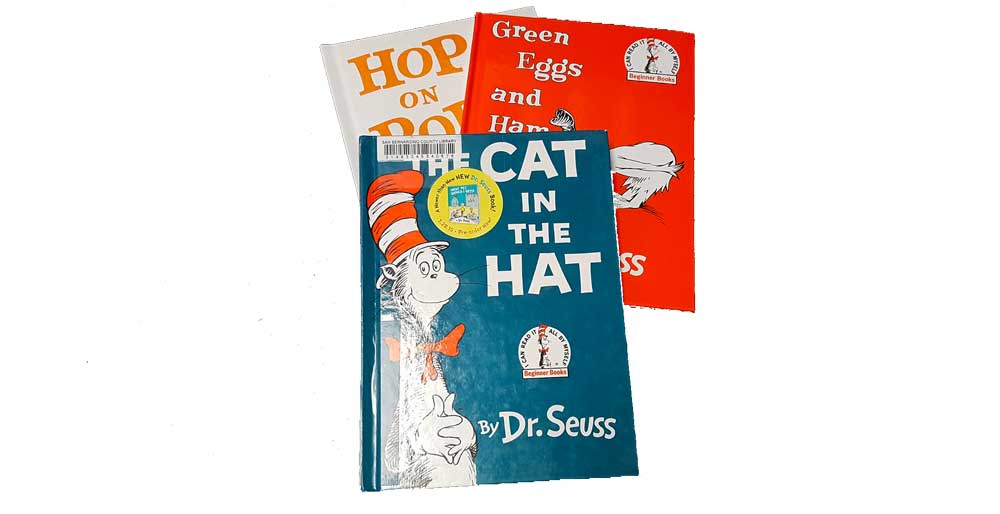 Perhaps most importantly, Dr. Seuss makes us change our perspective. As Jen Robinson, a children's literature expert, said, Dr. Seuss "encourages children and adults to look at the world in different ways, whether this means upside-down, from the top of a tree or from inside a tiny speck" 4. When we read or hear a Dr. Seuss story, we are forced to see the world in a new way; even in the silliest of stories, we are confronted with pieces of reality that can change our point of view. In The Lorax, we see what deforestation and destruction of the environment can do; however, we also confront the reality that you cannot make Thneeds without cutting down a few Truffulas. This conflict gives us, as teachers, the opportunity to lead a discussion about how this relates to real life, and how we can compromise between both the capitalist and environmentalist perspectives.
Dr. Seuss "encourages children and adults to look at the world in different ways, whether this means upside-down, from the top of a tree or from inside a tiny speck."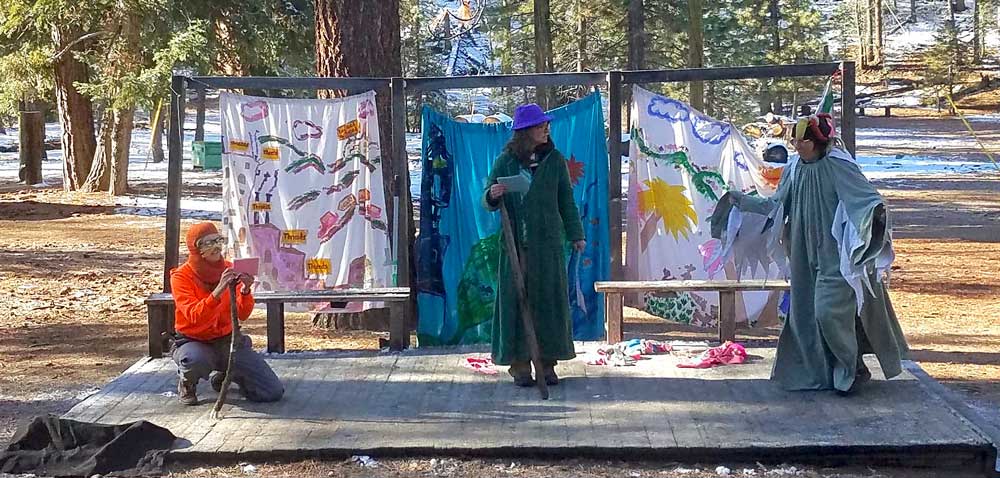 Engagement in Children's Theatre
On a snowy day at High Trails, we do not have the opportunity to perform The Lorax outdoors; instead, we read it inside. While this is still enjoyable, it does not have quite the same effect as a live performance. Why is this? What is it about theatre that is so engaging, so gripping of our students' attention?
David Wood explored the different aspects of children's theatre as an author of a multitude of children's plays; in a way, he is like the Dr. Seuss of theatre. As he put it, we don't start children off by reading Charles Dickens; we have an entire genre of children's literature 5. Similarly, it makes sense that we would have a separate genre of children's plays, which create the imaginative and exciting worlds that students crave.
"Shut up, if you please"
In The Lorax, we use simplistic sets, costumes, and props to create a colorful world: the Once-ler wears a green bathrobe and a purple fuzzy hat; the Hummingfish wears a fish hat on his or her head. The host of the performance introduces the play by handing out roles for audience participation; some students play Truffula trees, some get to place items into a bucket onstage, and everyone learns callbacks (when you hear the word "Barbaloot", I want you to sing "Ba ba ba, ba Barbaloot" – to the tune of "Barbara Ann"). As David Wood found, children like to respond with direct audience participation; this manifests itself not only in the singing and roles they are assigned, but by responding directly to the action. Audiences of children "openly release their feelings" as opposed to "just sitting there listening and weighing up the debate in their heads" 6.
For example, in The Lorax, the Once-ler has a line that reads "Shut up, if you please". The audience of students, trained never to say "Shut up" to anyone, releases an audible gasp followed by an "Ohhhhhh!" Reactions such as these could only come from the opportunity to experience a live performance; something is happening right in front of them, and they have the chance to respond naturally to it.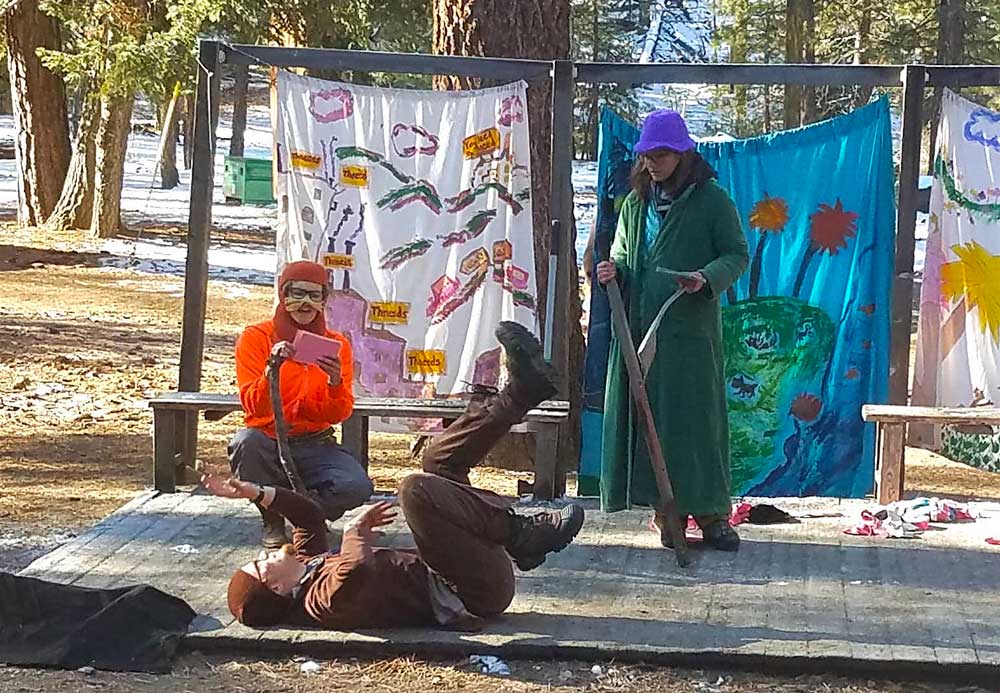 Perhaps the greatest moment for the person playing the role of the Once-ler is the very end of the play. The Lorax has just lifted himself away, and the Once-ler stands alone on the stage, admitting that he or she made a mistake by removing all of the trees. I personally recall a week in which the students were fairly talkative throughout the show, voicing their reactions to everything that happened. However, by the end of the play, as I read out the words of the Once-ler, I heard absolute silence. They were all so intent on hearing the ending, on finding out what the Once-ler had discovered. Wood mentions this in his novel, stating that "when you have convinced a young audience of your character's plight, the silence and stillness is deafening" 7
Children gravitate to action, humor, and most of all, justice. They want a happy ending; they want the villain to get what they deserve. So when a story like The Lorax ends with the person who seemed to be the villain showing remorse and trying to fix their mistake, they are forced to consider that just because someone does bad things, that doesn't make them a bad person.
Can Theatre Change the World?
Theatre makes audiences think. A recent show like Hamilton, which featured an ethnically diverse cast singing and rapping as the Founding Fathers of the United States, made children consider the American Revolution cool and made adults reconsider who gets to tell whose stories. Theatre has the unique quality of being a live performance; as opposed to a movie, in which you are watching moving pictures, during a play you are watching real people do real things right in front of you. You may know that they are actors, but for the moment, it feels so real and so tangible that you forget.
Terrence McNally, a renowned playwright, put it like this: "Yes, theatre can be entertaining. I like to laugh too. But I also like to be made to think and question and challenge. And when theatre does that, and entertains you, that's the best 8."
At High Trails, we give our students a lot of challenges. We have them do things that they've never done before, and perhaps never even considered doing before. And with this final performance, we challenge them one more time, leaving them with those final, inspiring, challenging words: "Unless someone like you cares a whole awful lot, nothing is going to get better. It's not." It is up to them to care. It is up to them to change the world. And hopefully, with our little piece of theatre, we can move them one step closer to that realization.

At High Trails Outdoor Science School, we literally force our instructors to write about elementary outdoor education, teaching outside, learning outside, our dirty classroom (the forest…gosh), environmental science, outdoor science, and all other tree hugging student and kid loving things that keep us engaged, passionate, driven, loving our job, digging our life, and spreading the word to anyone whose attention we can hold for long enough to actually make it through reading this entire sentence. Whew…. www.dirtyclassroom.com