It is that time of year again. The leaves are falling from the oak trees, the wind is becoming cooler and ever more crisp, and for me that means one thing: another year at High Trails Outdoor Science School!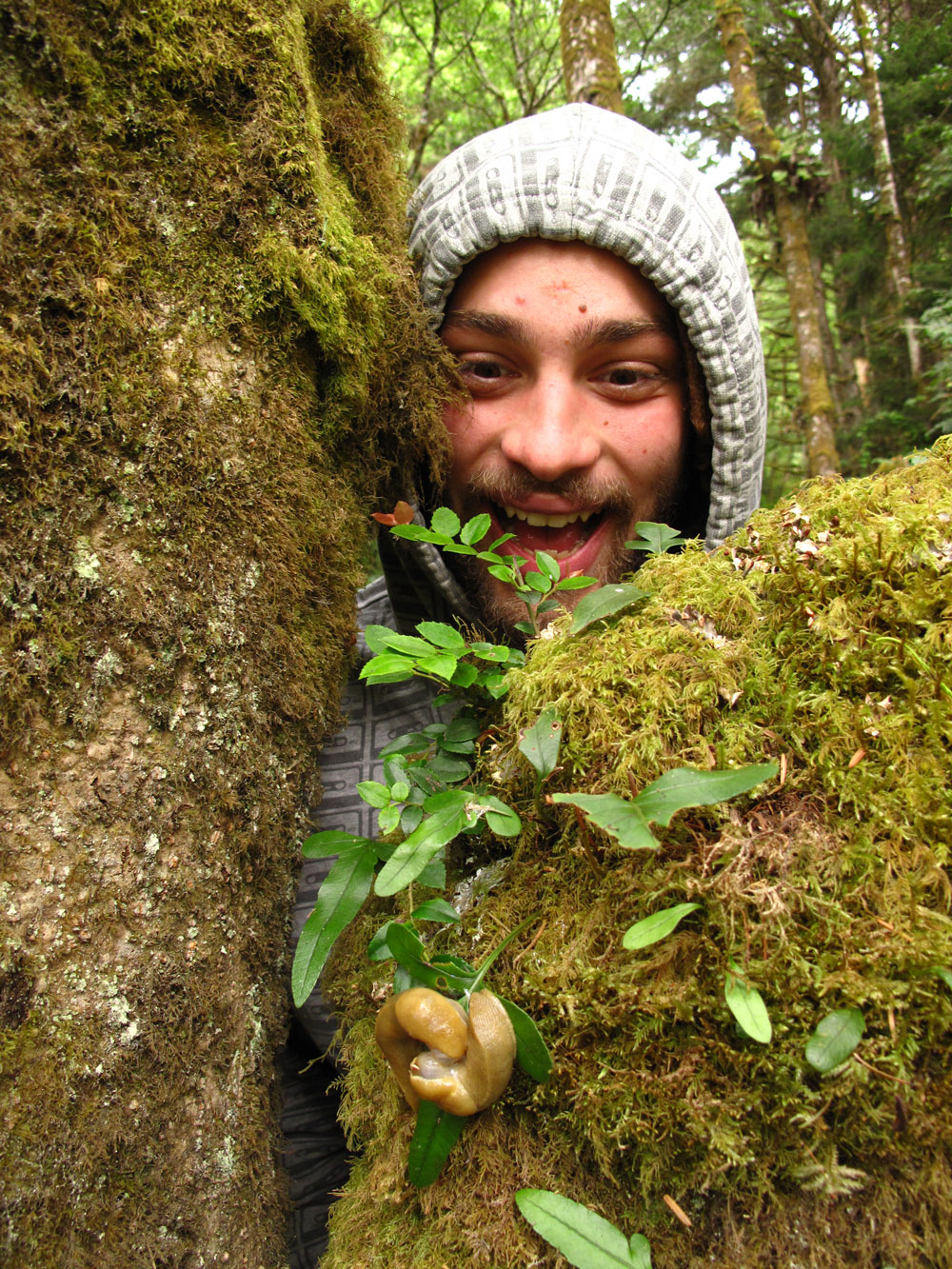 This year will mark my third year at High Trails and for most in the Outdoor Education business, this is an absurdly long amount of time to stay at one place of employment.
In our lifestyles, we switch jobs about as frequently as the seasons change. We are the masters of fitting our lives into our vehicles, and we almost always know of a couch within 4 hours that we could crash on!
In such a transient lifestyle, what brings me back for year three? And how does one keep it fresh?
We all remember our first year as instructors. Feeling the nervousness of working with kids again (or for the first time), teaching a new curriculum, and learning to identify a new ecosystem's flora and fauna. With everything being so brand new, how could one not be really excited?
Personally it was my first time west of the Mississippi, so everything was fresh and exciting. All of a sudden I lived and was actually paid to teach students in the mountains! How unreal. Now in my third year, I am still having as much fun as I did in my first weeks, so here are some tips for keeping it fresh in your second, third or even fourth year!
The People
One of the main things that keep me coming back to High Trails is the people that we hire. From reading all of our blogs, you can see the type of people we are surrounded by. They are mountaineers, travelers, rock climbers, mountain bikers, disc golfers, campers, backpackers, hikers, teachers, and all of them inspirational in some way. Some are artsy, and some are crafty. Some are great at cooking, while others couldn't cook a meal unless it was in the backcountry. Being surrounded by these types of people is such a blessing because as teachers, we always want to keep learning and growing. There is always an adventure to be had, and with that come many chances to learn and grow as a person.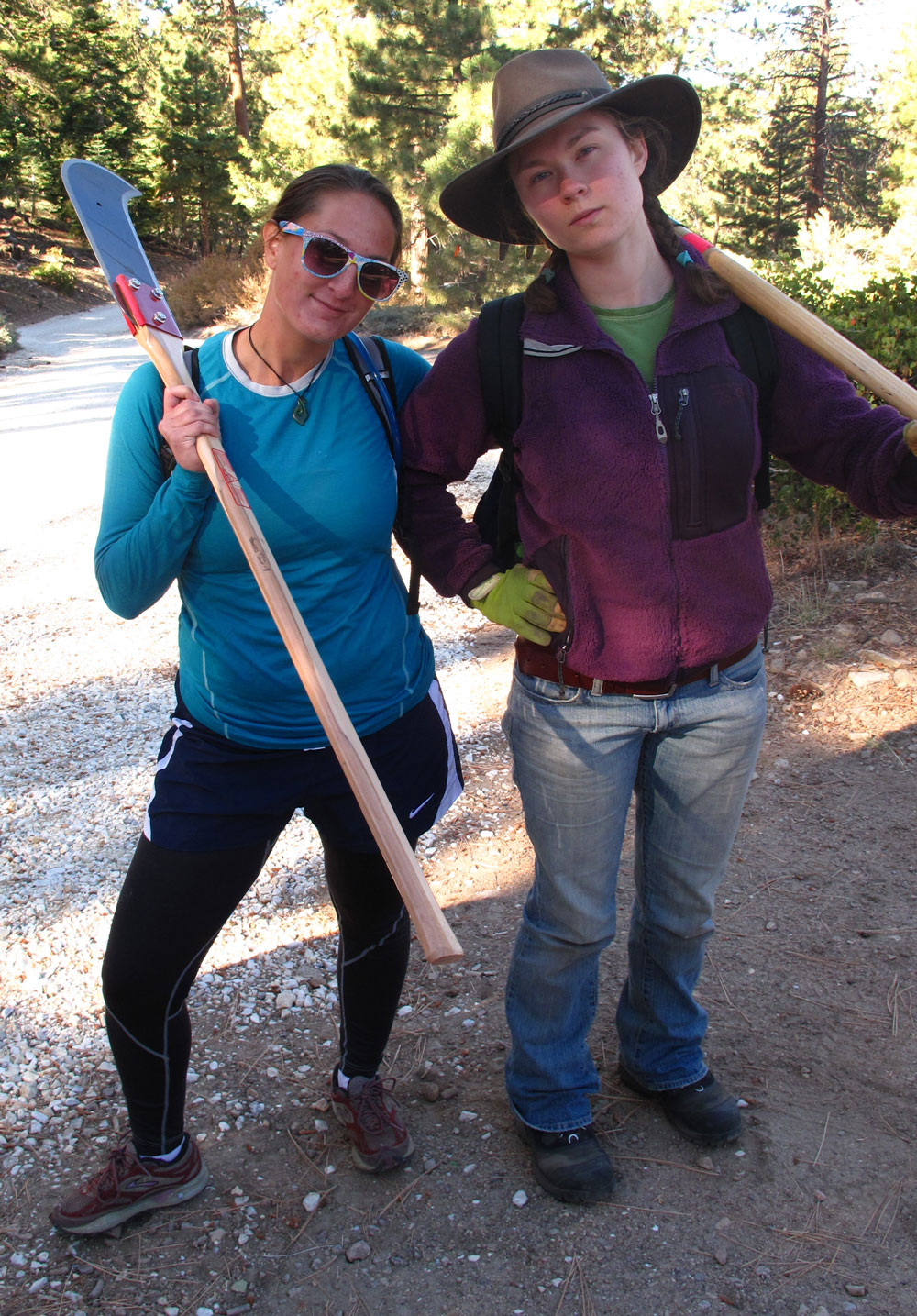 Whether it is rock climbing a previously unclimbed route or making their first batch of homemade cheese, High Trailers are always learning. Each year I return is another chance to learn more from these people. Last year, I was schooled in the art of bread baking on a budget. I took two loaves the next day and summited my first mountain!
There were also nights of canning and preserves, making homemade yogurt and granola. There are so many skills to learn and such little time. Every year, a batch of "newbies" refreshes that knowledge base. This year we have more travelers, backpackers and people who love the natural world. Take the time to get to know some of your new co-workers and you might be surprised at what you may learn.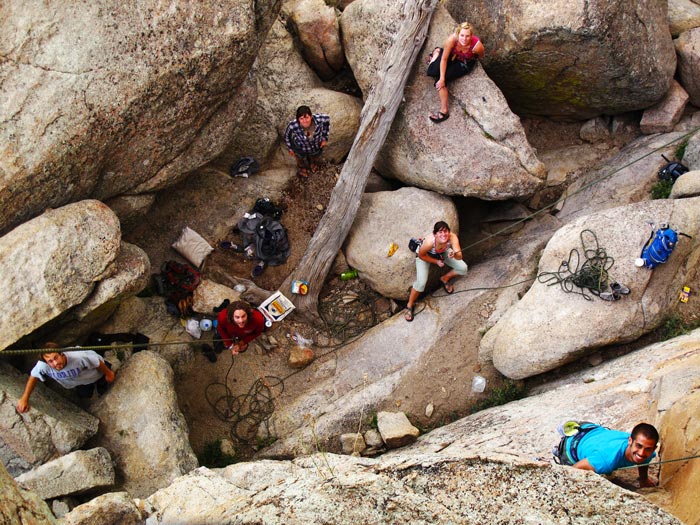 The Job
Another thing that has kept my job fresh for me is the availability to move up at High Trails. We have a great leveling up system, which encourages our instructors to become better teachers through reading, achieving goals, volunteer work, and being physically active. This system allows instructors to put in as much work and effort into High Trails as they would like, and to be rewarded as such. For me, this has meant moving up the "Teacher Path" by doing evaluations on peers and being a mentor for them. I have also volunteered at local Big Bear events like community Halloween parties and trail building.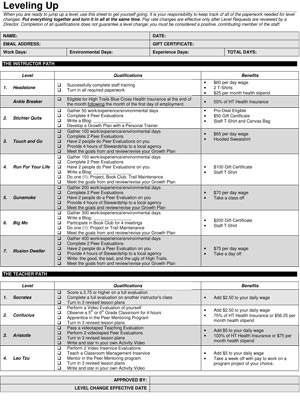 Personally, I have leveled up many times; collecting REI gift cards, daily pay raises, and free HTOSS schwag along the way. All the while becoming a better instructor by learning from my peers, their strengths, their weaknesses, and their experiences.
Another perk of High Trails is the ability to move into new positions as they open up. After my first year as an instructor, a new position was made: Senior Instructor. This position gave me new challenges in a familiar setting. I was now training new instructors as they came in, being a Peer Mentor in our mentoring program, and having my teaching held to a very high standard. This position kept me on my toes as a returning instructor. I had to keep my classes top-notch, as new instructors or peers were shadowing my classes almost every week.
During my first two years at High Trails, I purposefully chose to stay an instructor and out of the office. At the end of my second instructor year, I felt as though I was ready to take on a new job that would ask more of me then my teaching ability. As my second year came to a close, a couple positions in Administration opened up. This included the job of Support Coordinator (SC).
As SC, I must take on new responsibilities, which include making sure logistics run smoothly in the morning and evenings. This may mean making 200 turkey and cheese sandwiches or running telescope and evening campfires! I must be someone new staff can come to with questions about program, teaching, or logistics. My two previous years as an instructor have prepped me to meet every challenge.

The Big Picture
The final thing I will say about being a returner is to keep life here in perspective. See the big picture. We can forget how lucky we truly are. As a returner, you must sometimes remind yourself to take a second to appreciate where you are and what you do. Take a look at one of the beautiful views we have right on site. You live there. Take a look at those kids behind you. You get to teach them science in a National Forest. Look at those people climbing, hiking and biking. You get to live and adventure with them. Now look at 90% of the people in most cities. Can they be that pumped about their jobs? Is any office cubicle more impressive than the view of San Gorgonio? I don't think so.
High Trails is a great place to grow and learn about yourself and life, making it a great place to return to. I am sure that this year will provide many more chances for me to continue growing and learning as an instructor, leader, and most importantly, as a person.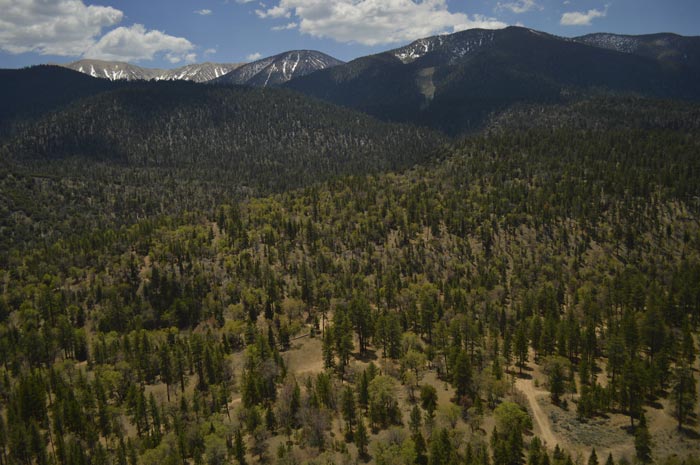 At High Trails Outdoor Science School, we literally force our instructors to write about elementary outdoor education, teaching outside, learning outside, our dirty classroom (the forest…gosh), environmental science, outdoor science, and all other tree hugging student and kid loving things that keep us engaged, passionate, driven, loving our job, digging our life, and spreading the word to anyone whose attention we can hold for long enough to actually make it through reading this entire sentence. Whew…. www.dirtyclassroom.com